Metron
Adapter Type 2 charging point to red CEE 16A socket with unlock function
This Type 2 to red CEE 16A cable adapter with unlock function can be used with vehicles or other equipment with a red CEE 16A connector on the vehicle side or for charging something else with a red CEE 16A connector.
Order even cheaper with combi solutions
How to use?
This cable adapter can be used to charge an electric vehicle with a red CEE 16A socket. The adapter can be used to plug into the type 2 socket of the charging point and use the end of the adapter as a red CEE 16A socket for up to 11kW.
Over temperatuur protection
This connector is usually used on charging stations with Type 2 connection to supply power to devices with a CEE 16A plug such as some E-quadricycles. This new design has a temperature sensor that prevents the home socket from overheating, so it is safe to use even at 11kW power consumption.
Documentation
Bag included:

Yes

Plug type Car side:

Red CEE 16A

Plug type Charge station side:

Type 2

Cable Type:

Gerade

Number of phases:

3

Amperage:

16A

Cable diameter:

5 x 6 mm2 + 1 x 0,5 mm2

Length (in meters):

0,5 m

Colour:

Black

Plug-Design:

clam shelled or molded
The product is in your shopping basket!
Others also bought these products.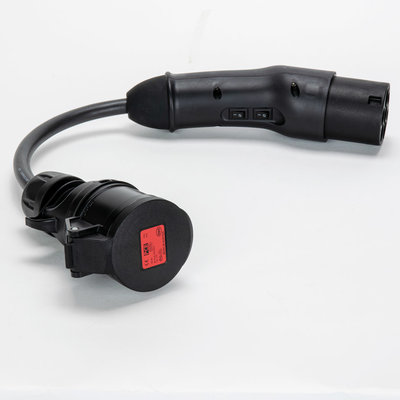 Metron Adapter Type 2 charging point to red CEE 32A socket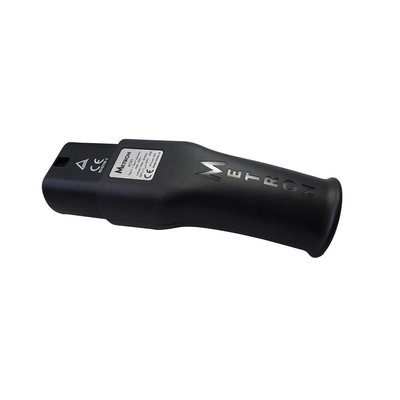 Metron Adapter Type 2 charging point to normal socket (Schuko)
DUOSIDA Adapter Type 2 charging point to normal socket (Schuko) 1 phase, 16A | 0.5 m