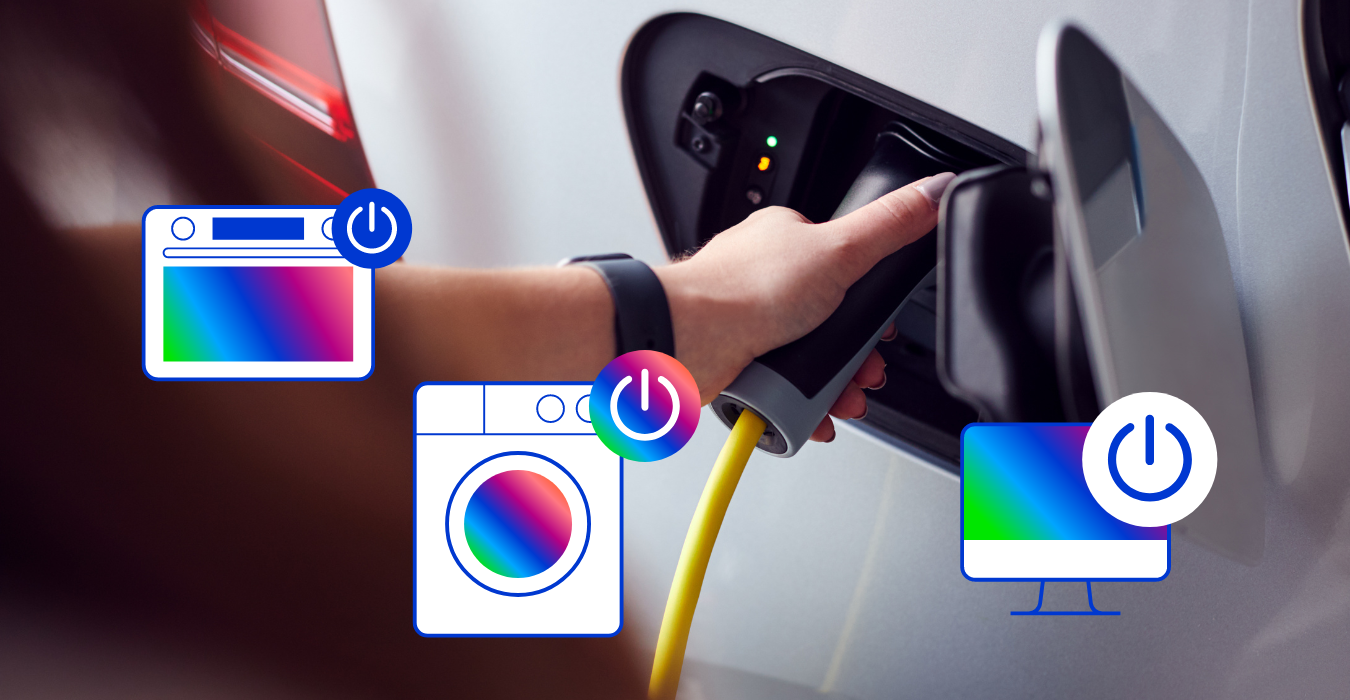 If you are looking to install one or more charging stations, you may have heard of the term 'local dynamic load balancing'. Although some single-family home owners may also consider charging management systems for multiple electric vehicles, it is important not only for home owners, but certainly also for e.g. the owner of a commercial building or the VVE of an apartment building, to look into dynamic load balancing EV charging stations if the company currently has several charging stations or is considering installing several charging stations in the future.
What is electric vehicle charging management?
When you plug in an electronic device, you expect it to work and for another device not to switch off because you have plugged in something new. However, the amount of electricity flowing into your home is not infinite. You need a management system to ensure that your appliances continue to receive the necessary share of electricity that they need. But a charger for an electric car uses much more electricity than, say, a toaster. While your meter box can easily handle and power one device, it becomes more difficult when multiple devices are in use. And that is where dynamic load balancing comes in.
Using dynamic load balancing, you can divide the existing power capacity of your meter box, for example, to charge one or more electric vehicles via your charging station(s). If you have several charging stations, you can have them communicate with each other and supply a constant amount of power to each of them.
Charging multiple electric cars at a company is normal, but not yet true for every home situation. At home Dynamic Load Balancing already comes in handy when charging a single electric car in combination with switching on other power consumers such as washing machines, dryers and water boilers. If you switch these all on at the same time, the fuses will "fly out". In other words, the meter cabinet will switch off one or all groups to ensure safety. Dynamic Load Balancing ensures that your electric car, the largest consumer of electricity, temporarily receives less power in order to allow all appliances to function properly.
Example
If we use a home example with one charger and a meter that supplies 3 x 16 amps (3 x 25 is the maximum load of the meter), the charging station can handle a maximum of 11 kW. But if you also switch on the washing machine, microwave and cook electrically at the same time, dynamic load balancing will ensure that your EV temporarily receives less power. 
Ways in which dynamic load balancing for multiple electric cars works
There are two ways in which dynamic load balancing chargers can deliver a constant amount of electricity to multiple charging stations: evenly distributed or 'first in, first charged'.
With evenly distributed load, each of the EV chargers will receive the same amount of electricity, depending on how many amps are available and how many stations are being used.
If you have several charging stations and use them simultaneously, you can also work with 'first in, first charged'. With 'first in, first charged' the distribution of electricity to the EV chargers would depend on when they started charging. The first of the four charging stations could charge 'its' EV to full capacity, while the second vehicle would be allocated as much electricity as was still available. If that charger can reach full capacity and there is still electricity available, the third vehicle is charged with that electricity. Once the first vehicle is charged, the amount of electricity it used will be made available to the third vehicle and the remaining electricity will be used to start charging the fourth vehicle.
First cook, then charge
The choice of the type of charge distribution depends on how you want to use the chargers and where they are located. A fleet manager may want to charge all his vehicles at once for a longer period, and so would choose an equal distribution. A flat manager might want tenants to finish charging sooner and park their cars so that more EVs can be charged, and thus opt for the first-come, first-served principle. In a home situation, you have to deal with other priorities. Charging your electric car has less priority than cooking or washing. And so your EV temporarily gets less power. When dinner is ready, more power is sent to the electric car.
Dynamic load balancing can be static, where the load is allocated in advance based on the time of day, for example, or dynamic, where the load changes in real time using complex algorithms that adjust and redirect energy consumption to the most critical areas. There are simply many clever options for applying Dynamic Load Balancing to the business. The home situation is the simplest one in which we always advise Dynamic Load Balancing when choosing a charge point. So make sure you are well informed beforehand about which charging station or load balancing system is best suited to your situation.