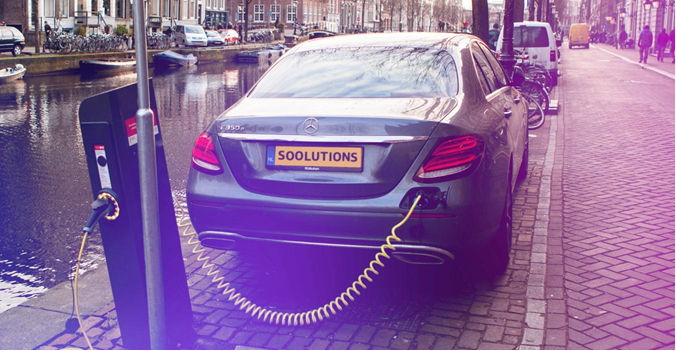 A judge in the Netherlands recently ruled that you cannot keep a charge point occupied unnecessarily. This makes public charging at our neighbours' premises much more cumbersome, making a home charging station even more attractive for them. This is not yet the case in England, but this could of course change as EVs become more popular.
In the Dutch seaside resort of Noordwijk, an EV owner recently objected to a €95 fine he received in 2020 for leaving his car fully charged at a charging station for two hours. However, the judge ruled against him, setting a new precedent. The municipality argued that unnecessarily occupying a parking space at a public charge point is not permitted, and it is expected that other municipalities in Holland will follow suit. The Dutch court held that a charging station indicates the expected charging time and that a driver can also calculate himself how long the charging will take, after which he can (or rather must) move his car.
Increasingly busy
On the one hand, it is of course logical that there would be enforcement in this area. After all, with more and more EVs on the road in European countries and the expansion of the number of charging points often lagging behind, public charging points are becoming increasingly crowded. It is of course undesirable for people to leave their car at a charge point all night and all day, which is what sometimes happens in practice. They park their EV in the evening, let it charge overnight and 'forget' to remove the car the next morning, leaving other EV owners in the lurch. Not to mention combustion car drivers who ignore all signs and park their car in a place reserved for EV drivers. As far as we know, there are no regulations on this yet, which is actually strange. In England it is also not yet forbidden to leave a car parked at a charging point for longer than is strictly necessary, but with more and more EVs needing to be charged, this could well change.
In a way, the ruling of the Dutch court is understandable. There is something to be said for the argument that EV owners can see exactly when the charging process has been completed. That is not so easy with every electric car. Of course, it doesn't make life any easier for EV drivers. In fact, it means that - strictly speaking - they have to move their car in the middle of the night because the charging process has been completed. After all, a policeman will only just pass by in the morning while they are still in bed. That means they have to move their car more often than they should, and it is also inconvenient to have to constantly check whether the battery is charged.
Always a charging point at hand
Fortunately, there is a solution to this problem: a home charging station. If you can park your car close to home, a home charging station is ideal. You never have to worry that all the charging points are occupied and you don't have to walk for miles in all weathers. What's more, charging is cheaper, especially if you have solar panels. Even if you don't have your own driveway, you can use a protective mat or a cable barrier to lay the charging cable across the pavement to your car. The investment for your own charging station pays off with high charging rates, lower costs, no dependency on a public charging station and no risk of being fined for being connected too long.
Soolutions offers many different types of charging stations, take a look at our website to see what is the best solution for your situation. There is a solution for every situation.