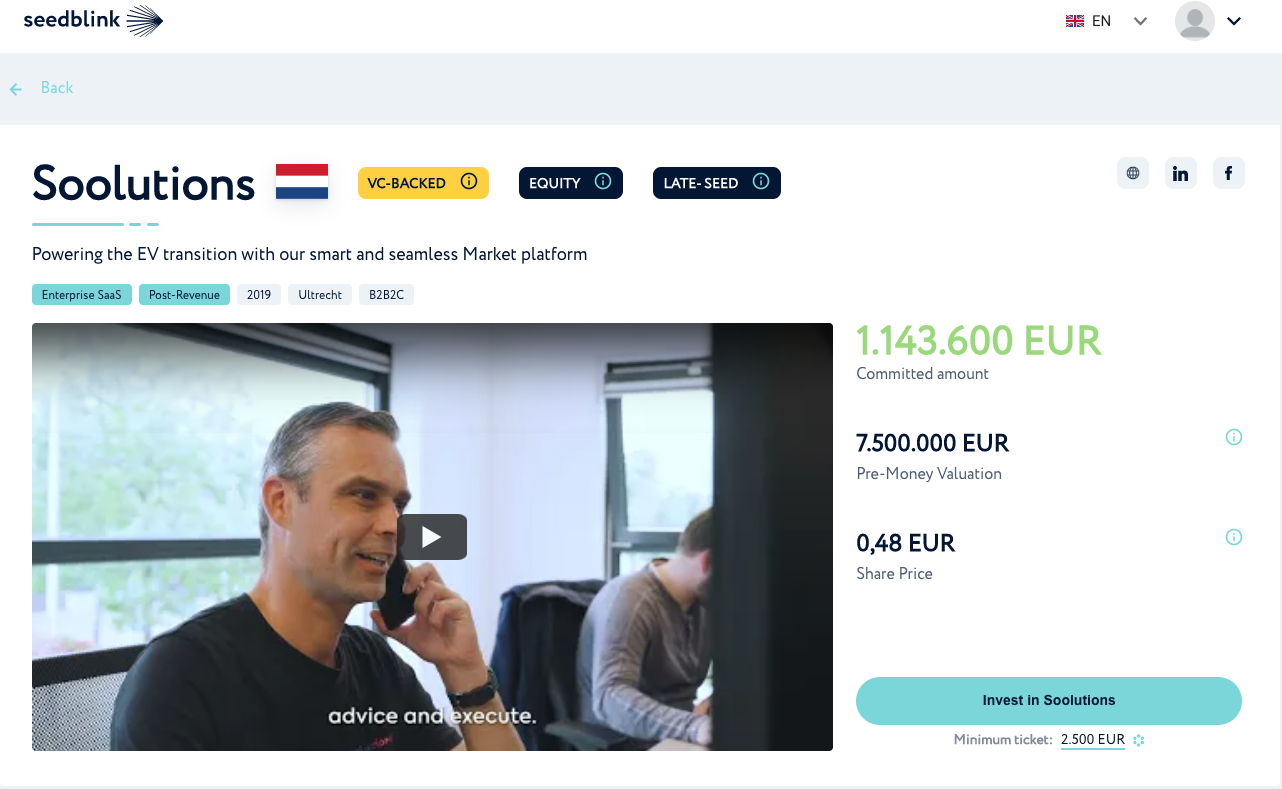 Dutch cleantech startup Soolutions is raising capital through SeedBlink, the European co-investment platform.
The investment round includes a total of €2 million, of which €1.1 million has already been committed by lead investors.
Soolutions is a leading Dutch company providing charging infrastructure for electric cars, a fast-growing market.
SeedBlink offers companies and investors the benefits of a growing pan-European platform, Soolutions is SeedBlink's fourth investment deal in the Netherlands.
ROTTERDAM, May 11 - The electric vehicle market is growing rapidly, with plenty of opportunities for investors. Dutch tech startup Soolutions, which supplies and installs charging stations mainly to consumers, is taking benefit of this growth market. To scale up operations, the cleantech company is raising (equity) capital through SeedBlink. Robbin Hoogstraten, the regional manager of SeedBlink Benelux, expresses enthusiasm, "Through our platform, investors get access to a fast-growing market, driven by an ambitious and promising company. Dutch entrepreneurs are known for being well educated, leading strong teams and executing ambitious plans."
By 2030, it is estimated that there will be about 44 million cars on European roads. As nearly 20% of cars sold by 2021 was electric, the need for a robust charging infrastructure becomes increasingly crucial. Meeting this demand will require significant growth capital to build an entirely new charging infrastructure. For investors, this presents an interesting opportunity: a sustainable investment in a fast-growing market, with a wide range of business opportunities.
Joury de Reuver, founder of Soolutions: "Public charging stations are currently attracting much of the attention around the electrification of cars, as there is a shortage of these in many countries. But it is precisely at home where charging normally occurs: 80 to 90 percent of annual charging comes from a home charger. And about 30 percent of homes can support a home charger. So it pays to have a smart home charging facility tailored to your needs. If you combine this with solar panels, for example, an electric car owner can recoup the cost of those panels in two to three years. That's very exciting. Soolutions offers consumers a full-service solution through our online platform, with everything from advice, hardware, installation to premium support."
Investing in a growing market
Soolutions has evolved in recent years from a consumer web shop to a full service platform with more than 350 business partners such as car dealers, leasing companies, fleet operators, installers and energy companies like GreenChoice. These partnerships have led to impressive sales growth. 
De Reuver sees home charging for electric vehicles as the starting point for a much larger market: home electrification. In the Netherlands, gas is increasingly being supplanted by electricity, solar panels are on the rise and consumers are finding it increasingly important to be independent of the energy grid. "We would like to offer an all-in solution for all electricity in homes, that is our ambition: energy as a service. For now, however, the focus is on electric vehicles (EVs). The EV market is constantly growing, but there is a lack of reliable, clear information and implementation that allows consumers to charge at home, at work and in public."
In the current round of investment, Soolutions is raising up to 2 million euros to expand the platform's reach, add new products and create even better services. The company has a strong position in the Benelux and is also expanding in other European countries.
Robbin Hoogstraten: "Soolutions offers a platform to address an urgent problem: providing charging capacity to the growing number of electric car owners. They are a fully integrated service provider and have developed a revenue model with their platform and growing number of business partners that they can easily scale up. This offers our investors very interesting opportunities. Soolutions' European ambition dovetails nicely with SeedBlink's European expansion."
SeedBlink's mission: a healthy European technology ecosystem
SeedBlink's mission is to grow Europe's technology ecosystem while increasing risk-adjusted returns for investors. "We create value - both for investors and tech start-ups - through a digital portfolio of scalable business investments," Hoogstraten said. "SeedBlink aims to play a role in creating a truly European capital market that supports tech startups in the Netherlands and elsewhere in Europe. At the same time, the platform offers Dutch and other European investors a broad set of investment opportunities, where they can invest side by side with venture capitalists."
To that end, SeedBlink is constantly improving its platform, most recently in March with the launch of its secondary market, a game changer for individual investors and the startup investment industry. Liquidity was the most sought-after feature for individual investors to further diversify their portfolios of startups, Hoogstraten says.
About SeedBlink

SeedBlink is an investment platform that specializes in technology and enables investments for leading technology startups and scale-ups, with the help of individual and institutional investors. SeedBlink's mission is to build an efficient investment infrastructure in which individual and institutional investors work together to fund innovative European technology companies.
SeedBlink Crowd SA is registered with the Register of the Financial Markets Authority since 03/11/2022 under the number PJR28FSFPR/400001. Contact us at [email protected]. Please read the essential information at project or platform level before investing on the platform. This information is available in English and Dutch on the official website www.seedblink.com.
About Soolutions
Soolutions is a Dutch company in the field of charging infrastructure for electric cars. We supply directly to consumers, but also through car dealers, leasing companies, energy companies, fleet managers and installers. Our focus is on easy supply, distribution and installation of charging stations in consumers' homes. Soolutions has been active in the e-mobility market since 2013 with an e-commerce website, operating across Europe and in some countries outside. In 2019, we decided to meet the rapidly growing need for supply and installation of charging stations, and related products and services, using an online market platform and sales tool such as the Charge Wizard. With our team, software tools and mission, we intensively support energy transition and greening.