Join the Green Revolution: Invest in Soolutions!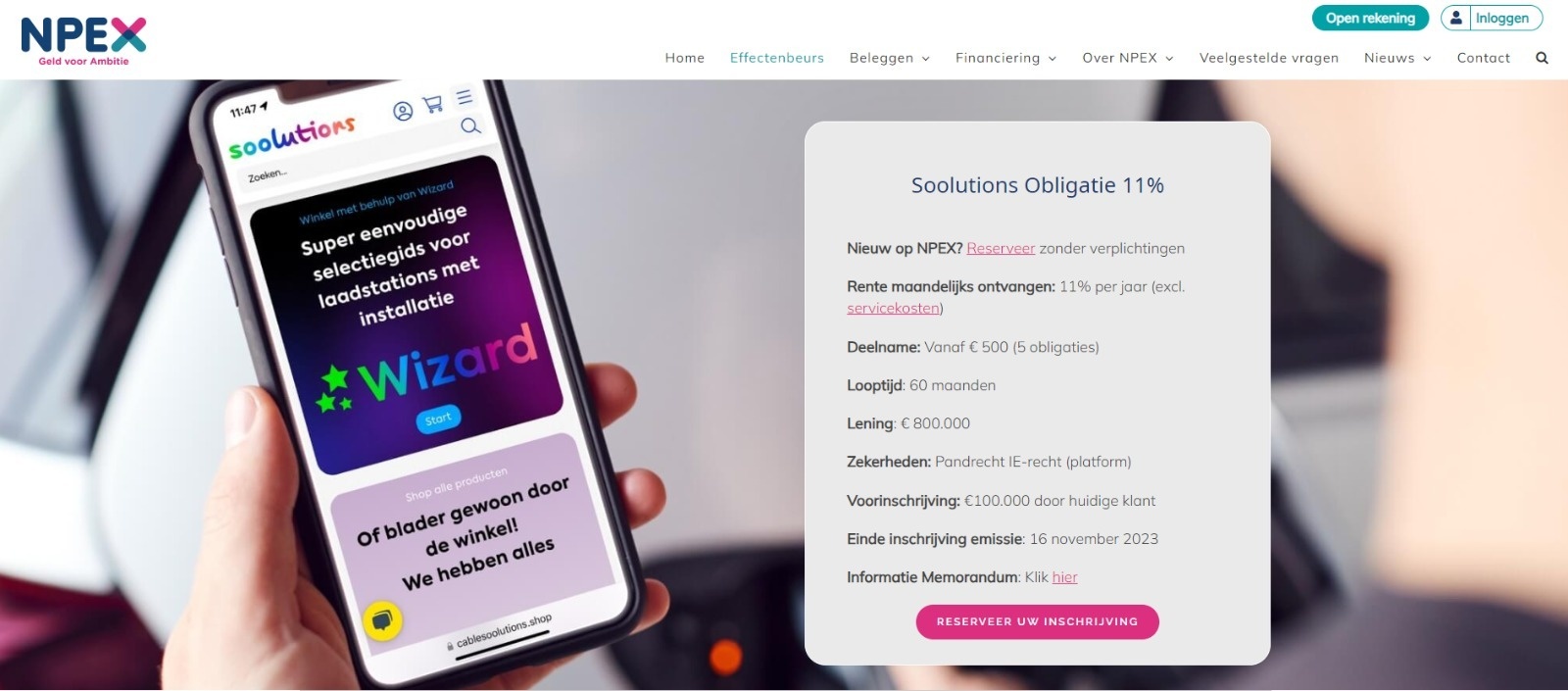 Seize the Opportunity: Accelerate the Electric Future with Soolutions
Have you ever envisioned contributing to a greener tomorrow and receive 11% interest? The moment has arrived, and we're excited to extend this unique opportunity to you. Soolutions has partnered with NPEX, a Dutch investment platform, to amplify our impact in the electric vehicle (EV) sector.
Why Invest in Soolutions?
We're not merely a marketplace; we're the linchpin that connects the EV ecosystem with consumers. Our unwavering commitment to fostering a sustainable future is evident in our comprehensive home charging solutions. According to NPEX, 80-90% of EV charging occurs at home, representing a European market potential of €120-150 billion.
Our Evolution and Partnerships
Over the years, Soolutions has transitioned from a consumer webshop to a full-service platform, boasting over 300 business partners. These include car dealerships, leasing companies, fleet managers, and energy companies like GreenChoice. Our partnerships have fueled remarkable revenue growth, scaling from €304,164 in 2019 to an impressive €1,551,477 in 2022.
Our Offerings
We've meticulously crafted multiple revenue streams to capture market share and generate cash flow. Our user-friendly services, such as the online ChargeWizard, simplify the transition to electric vehicles and the purchase of home chargers and accessories.
The Investment Details
Soolutions is offering an 11% annual return on investment through NPEX, with a minimum participation of €500 for 60 months. The funds raised will be used for platform optimization, marketing, and strategic collaborations. Investors will receive a first lien on Soolutions' intellectual property as security.
The Future is Electric
By 2030, an estimated 44 million electric cars will grace Europe's roads. To meet this burgeoning demand, significant capital is needed to establish a robust charging infrastructure. Your investment in Soolutions not only contributes to a cleaner, brighter future but also offers you a stake in a rapidly growing market teeming with diverse business opportunities.
Take Action Today
Don't miss this electrifying journey. Invest in Soolutions and become an integral part of the change that's reshaping our world.
For more information, feel free to contact us at +31 (0) 85-06 04 784 or email.
SIGN UP NOW:
More than 10 years of charging infrastructure experience
Are you still unable to figure out which product you need? Do not hesitate and contact us. We will help you as well as possible to find a suitable product to load your car.