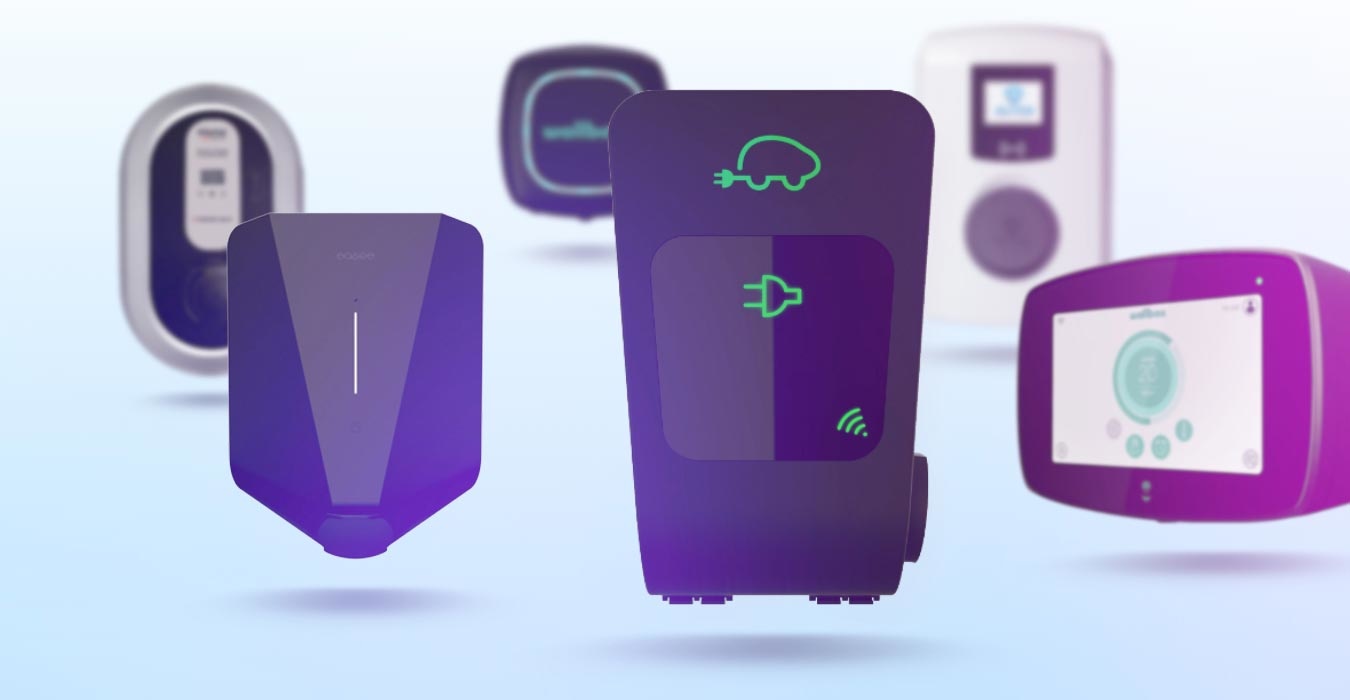 If you want to install a charge post in your home, you should expect to pay between 800 and 2,500 euros including installation. The charge post itself costs between 500 and 1,200 euros depending on the model, and the installation costs between 500 and 1,500 euros depending on the situation. There are a few factors that have a big influence on the total price tag, such as the charging capacity, whether you choose a smart or regular charger and whether you need an extra power pack. We'll take a closer look at that in this article
Smart charger/standard charger
A smart charger is a bit more expensive than a standard charger, but it offers a number of advantages. For example, it takes your energy consumption into account when issuing power. Thus, a smart charger makes more power available to your EV at times when you consume little energy, such as during the night. This has the added advantage of saving you energy costs as well, because energy tariffs are also lower then. A smart charger also allows you to see exactly how much power you're using by charging your EV, which can be useful if you're driving a company car and want to claim your electricity costs or if you simply want some insight.
Charging power
The charging capacity of the charger determines how fast you can charge. If you choose a charger with less power, you will save money, but it will logically also take longer to charge the car. The difference between a fast and a slower charger does get smaller. Most people choose a faster charger. Also with a view to the future. However, in this case the law of the weakest link applies: there is no added value in choosing a charger with more power than your car can handle, so charging will not go any faster. But with your next electric car, you might use that speed.
Extra generator or not?
To charge an EV, you need a 16A power outlet specifically designed for this purpose. If there is no free group in your meter cupboard, you will have to have one installed. Expect to pay around 100 to 150 euros for this, including installation and the necessary materials.
How many metres of cable do you need?
Of course you will also need cables when installing a charger. By this we mean the cable from the meter box to the charging station. If the cable has a maximum length of 25 metres, you can use 4 quad cables. If you need to bridge a greater distance, you should go for a 6 quad cable. There is a considerable price difference between these, but this is not something to save on, because if too much current is forced through a (too) thin cable, this can cause a fire hazard.
So all in all, a charge point is quite an expensive proposition?
Of course, you'll have to dig deep into your own pockets for your own charger, but remember that after that you'll pay a lot less than when you fill up your car with fuel, even though the price of electricity has risen considerably. And if you have solar panels on your roof, you're in the clear. A charging station at home also makes things easier. You never have to search for a free place to charge, you leave home every day with a fully charged battery so you practically never have to use the expensive fast chargers along the motorway, and charging is up to ten times faster than using a charger connected to a regular power outlet.
When buying, it is advisable to compare the different chargers and ask for quotes from different installation companies. Ask for the price of the materials as well, so you won't be surprised.  And if you choose a company based in your area, they may not charge you for travel. Our charging station configurator will help you with that.