Order even cheaper with combi solutions
This adapter connects CEE red 16A (male) to Schuko (female).
What the adapter does
With these adapters you can convert a red 16A 5-pin CEE connection into a Schuko plug. This is useful if, for example, only one CEE power supply is available on camping sites. The robust neoprene cable can be used for many applications and environments.
High quality product
The outer layer of this adapter cable is made of neoprene. This is a type of rubber that is very strong and can also be used in industrial areas. The adapter is also ideal for camping sites. Cars can drive over the cable without damaging it. Rain is not a problem either. The adapter is classified IP44 which means it is water splash-proof.
Properties
Schuko connector with cover
Suitable for connecting a portable charger
Suitable for professional use
Outer layer made of neoprene rubber
The product is in your shopping basket!
Others also bought these products.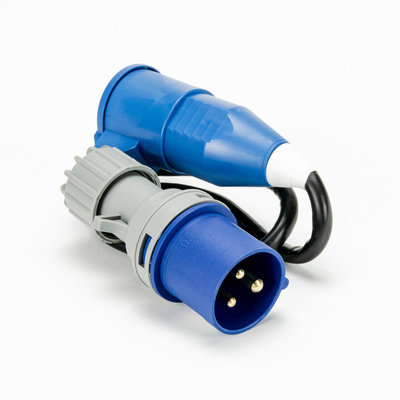 Soolutions CEE blue 16A (m) to Schuko (f)
Soolutions CEE blue 32A (m) to Schuko (f)
Besen Portable EV travel charger type 2