Easee
Home - Socket - 3 phase 32A
Order even cheaper with combi solutions
Technical specifications
| | |
| --- | --- |
| Phase | 3 |
| Ampere | 32A |
| Power | 22kW |
| Dimensions | 193x256x106mm |
| 30mA AC earth leakage protection | Yes |
| 6mA DC earth leakage protection | Yes |
| Connectivity | Yes |
| Fixed cable | No |
| Cable length(s) | - |
| kWh meter built-in | Yes |
| RFID reader | Yes |
| Display | No |
| OCPP version supported | 1.6JSON |
Functional specifications
| | |
| --- | --- |
| Load balancing support | Yes |
| Vehicle to grid | No |
| Postponed charging | Yes |
| Controllable with APP | Yes |
| Charging with the sun | No |
| Manual settlement of charging sessions | Yes |
| Automatic settling of charging sessions | Yes |
Easee Home 22kW
The sleek Scandinavian design of the Easee Charge Point is resistant to all weather conditions. The charging points are equipped with a smart load balancing technique and a high security level. They are easy to use and easy to operate with the Easee app. The charging point can be used at home or at work, the only thing you need to figure out is the color.
Easee Home is intelligent and adapts to all electric cars and power supplies. The charge point automatically detects whether the car supports 3-phase charging. You don't have to think about technical specifications, the charging station always adapts to the needs of the car. The Easee manages to charge several cars with different needs at the same time.
Specifications
Fully dynamic charging power 1.4 – 22 kW (1- and 3-phase charging)
Load balancing of up to 3 units per fuse without additional infrastructure (wireless)
An automatic queuing system
The load and phase balancing works offline
Integrated 4G in every unit (e-SIM), free lifetime subscription included
Wifi connection possible
Permanent locking of the Type 2 cable possible
Integrated earth leakage protection (Integral type B RCD)
Integrated RFID reader (NFC / ISO 14443 and MiFare Classic)
Energy measurement (+/- 3%), to read your charging consumption
Developed and produced in Norway
The box is 69% smaller than other solutions and weighs only 1.5 kg
3 year warranty from the day the charger is installed
Universal, fits all types of electric cars
Manual and digital control (free Easee App)
Installation
As the name Easee suggests, the charge point is easy to install. However, we recommend that you have the installation carried out by a trained specialist. They can also install the correct components in the meter box for you. 
Easee App
With the Easee App you can easily manage Easee Charging Robots. In the app you have access to all your facilities and the various Charging Robots. The app is available for both Android and iOS. Download directly.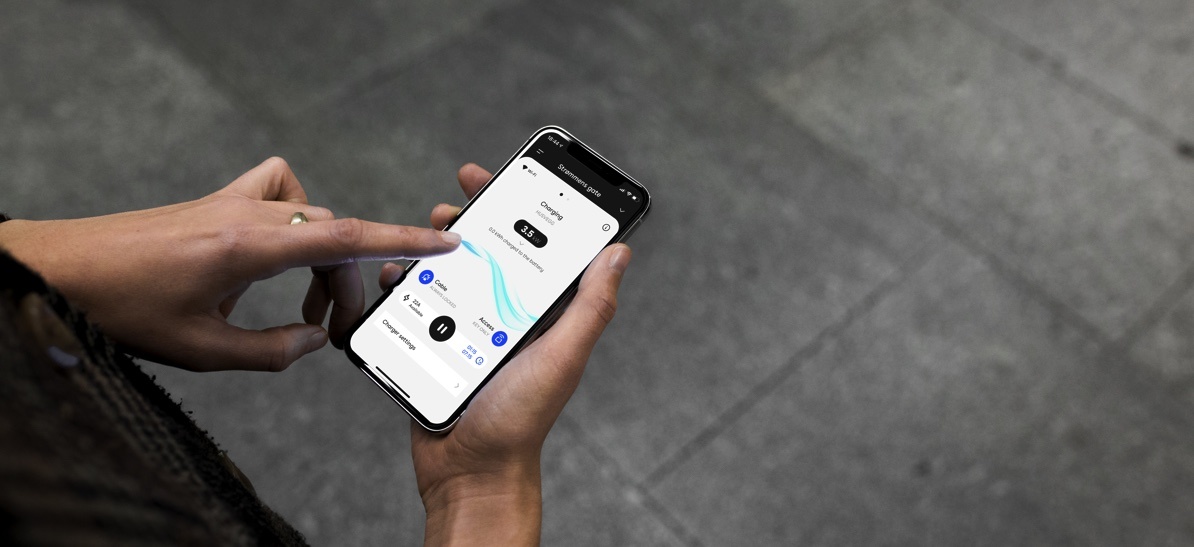 Load balancing with the Easee Equalizer
With the Easee Equalizer, you ensure that the maximum residual current is used within your current electricity connection and that your car can be charged as quickly as possible. And all this without having to worry about your fuses or the main fuse blowing out. Is your washing machine on? Then the car charges less quickly. In practice, the charging station is in continuous contact with a smart module in the meter cupboard. This module continuously monitors how much power is available at that moment. All electrical appliances in the house have priority over the charging station. The remaining capacity is available for charging the car. In this way, safe and optimal use is made of the power connection and overload is prevented.
Documentation
Dimensions (lxbxh in mm):

193x256x106

Cable length (in meters):

-

Max Charging Speed in km/h:

120

Max Charging Speed in kW:

22

Plug type Car side:

-

Plug type Charge station side:

Type 2

Cable Attached or Socket:

Socket

Display:

No

Phases:

3

Amperage:

32

Network Technologies Supported:

Wifi , 4G

Mobile app Support:

Yes

Remote station management:

OCPP 1.6JSON

Scheduled Charging:

Yes

Colour:

Black

RFID reader:

Yes

Load Balancing:

Yes, optional

Solar charging:

Plug & Charge Enabled:

Yes

Requires Professional Installation:

Yes

IP Rating:

IP54

Number of vehicles that can be charged:

1

RCD type build in:

30mA Type A

6mA DC Current Detection:

Yes

Home Automation Support:

No

MID certified meter:

No

kWh meter Build in:

Yes

Smart Tesla charge port opening :

No
More than 10 years of charging infrastructure experience
Are you still unable to figure out which product you need? Do not hesitate and contact us. We will help you as well as possible to find a suitable product to load your car.