Order even cheaper with combi solutions
Charge at nearly every socket in Europe!
The Besen travel charger comes with 5 different power adapters included for the most used European wall sockets from Schuko up to 3 phase 32A. This charger has been developed for extreme flexibility in a compact and durable design with its full metal housing and IP66 en IK10 rating.
Intelligent adapters
This charger is so intelligent that it recognizes which power adapter is connected and automatically limits the current accordingly. So you will never have to worry about overloading the power socket and fuses.
Advanced functions
Through the touch screen display it is easy to read your charging session data such as your charging current and current setting. It also give you access to the delay or schedule function that allows you to charge at any convenient time. The other settings and functions are easily found and adjusted with the touch screen ass well.
Features:
Schuko intelligent adapter
CEE blue 16A intelligent adapter
CEE blue 32A intelligent adapter
CEE red 16A intelligent adapter
CEE red 32A intelligent adapter
Touchscreen
Bag included
Wall bracket included
Power meter
Scheduled and delayed charging
Length: 0,7m from wall socket to charger and 6m from charger to car
Protection rating: IP66 en IK10
Max. output: 32A 1phase / 24A 3phase
Waterproofing
Our portable chargers are waterproof but not intended for prolonged use in the rain. The protection level is indicated by an IPXX rating, but this offers no guarantee against water damage. Use the chargers according to the guidelines: never place the charger on the ground in rainy conditions, bring the charger inside after each charging session, and be cautious when transferring the charger between cold and warm conditions to prevent condensation. Water ingress may lead to damage, which is not covered by warranty.
Bag included:

Yes

IP rating:

IP66

Plug type Car side:

Type 2

Type of wall side socket:

Schuko, CEE blue 16, CEE blue 32, CEE red 16, CEE red 32

Number of phases:

1/3

Amperage:

1P32A/3P24A

Cable Diameter:

Length (in meters):

6,7

Colour:

Black

Plug Pin temperature sensors:
The product is in your shopping basket!
Others also bought these products.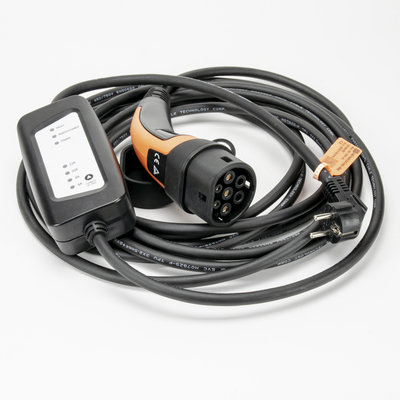 Hebei Shensi Type 2 Portable Charger for normal outlet (Schuko)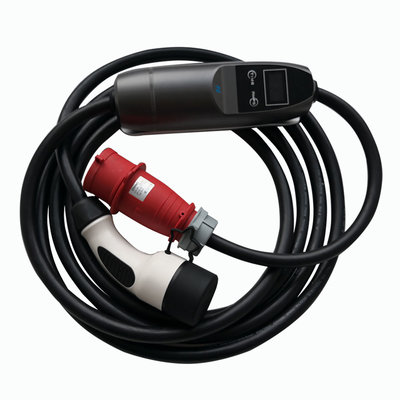 Khons Type 2 Portable Charger with Red CEE - 16A 3 Phase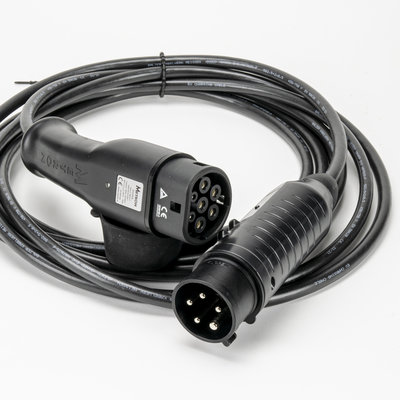 Metron Type 2 Portable Charger for Red CEE - 16A 3 Phase