Wallbox
Pulsar Plus - Type 2 cable - 3 phase 32A - black and white
The Wallbox Pulsar Plus 22 kW is one of our most versatile home chargers with Wi-Fi, Bluetooth and other smart functions. This is a suitable option for cars with different load capacities. The charging capacity is determined by the on-board charger of the
Pros and Cons
This station has Load balancing as an option

You can manage the charger through an app on your phone

Small design fits anywhere

Little space inside the charger for installation

No RFID reaader available

Distance from wifi router is limited
Order even cheaper with combi solutions
Technical specifications
| | |
| --- | --- |
| Phase | 3 |
| Ampere | 32A |
| Power | 22kW |
| Dimensions | 166x163x82mm |
| 30mA AC earth leakage protection | Yes |
| 6mA DC earth leakage protection | Yes |
| Connectivity | Yes |
| Fixed cable | Yes |
| Cable length(s) | 5m / 7m |
| kWh meter built-in | Yes |
| RFID reader | No |
| Display | No |
| OCPP version supported | 1.6JSON |
Functional specifications
| | |
| --- | --- |
| Load balancing support | Yes |
| Vehicle to grid | No |
| Postponed charging | Yes |
| Controllable with APP | Yes |
| Charging with the sun | Yes (i.c.w. Wallbox Powerboost) |
| Manual settlement of charging sessions | Yes |
| Automatic settling of charging sessions | No |
Pulsar Plus Wallbox 22 kW
The Wallbox Pulsar Plus 22 kW is one of our most versatile home chargers with Wi-Fi, Bluetooth and other smart functions. This is a suitable option for cars with different load capacities. The load capacity is determined by the on-board charger of the battery in your car and by your mains connection.
With fixed type 2 charging cable
The Wallbox 22 kW Pulsar Plus charging station is equipped with a fixed Type 2 charging cable of 5 meters as standard. The 3 phase versions are also available with a 7 meter cables. Because of the fixed cable, it is no longer necessary to remove the cable from the trunk every time. You just have to take the plug from the holder and put it in the car to start charging.
Applicable to 1-phase and 3-phase connections
This smart Wallbox charging station is suitable for charging your car with a maximum of 3x32A (22 kW), but you can set this in values ​​between 6A and 32A so that this charging station is perfectly applicable to any network connection and can supply different charging capacities. This allows you to charge any electric car!
The Wallbox Pulsar Plus 22 kW supports both 1-phase charging and is compatible with any 1-phase and 3-phase electrical connections. However, to use more than 7.4 kW of power, you will need a 3-phase electricity connection.
Advantages of the 22 kW Wallbox Pulsar Plus:
No subscription to use remote station management
Including 5 meter fixed Type 2 charging cable and 7 meter optional (3 phase version only)
Connection with Wi-Fi and Bluetooth
Connectivity via the Wallbox app
Lower installation costs i.v.m. integrated DC detection
Expandable with Dynamic Load Balancing
The disadvantage of this charging station is that there is no possibility to automatically charge charging costs through a back office, for the benefit of lease drivers.
No subscription fees
No back office subscription is required for this charger. Management is possible via the Wallbox app, via the myWallbox portal, via Wi-Fi or Bluetooth.
myWallbox portal
Configure, monitor and manage your Pulsar Plus from the myWallbox portal via a mobile app or the web portal. With the myWallbox portal you get real-time information about consumption, charging time and energy costs. You can set the load capacity and lock (and unlock) the charging station to prevent misuse.
The Wallbox Pulsar connects via Bluetooth Smart Connectivity. This makes it possible to receive on-the-go information when you come within reach of the charging station. Functions such as activation of charging sessions, insight into energy consumption and charging costs and automatic software updates make the Wallbox Pulsar the smartest - and smallest - charging station on the market. The MyWallbox platform is a personal digital environment that allows you to monitor charging sessions, manage your charging station and access services such as Smart Charging
Wallbox app for smartphone and tablet
You can view and manage all device settings from your mobile phone or tablet via the Wallbox app. The functions of the app include setting the charging current, locking and unlocking the charging station, scheduling charging sessions (for example, when the energy price is lower) and more.
Schedule loading sessions
You can schedule loading with your Wallbox Pulsar Plus. You can use the app to set at what times your charger may or may not actively charge. For example, when you use peak and off-peak rates for your energy consumption, you can set your car to only charge during off-peak rates. This allows you to charge your electric car at a lower rate.
LED ring
With the help of the LED ring this charging point gives you useful information about the status.
Green: ready

The charger remains in this state when it is not connected to a car and is ready for use.

Turquoise (lichtblauw): aangesloten

The charger detects that it is connected to a car. There are a few situations where the charger can stay in this state:

Waiting for the car's request: this situation occurs when the car does not want to charge, although the charger is ready. This has one of the following causes:

The car's battery is fully charged
The transition between connecting the car and charging
The transition between recharging and starting charging

Charging paused: the user paused charging via the app.

End of schedule: When a schedule is complete, the charger stops charging.

Turquoise flashing: connected (planned)

When the Pulsar is connected to the car, if the halo is turquoise and pulses, then a charging session is planned within the next 12 hours. It does not charge until the start time of the programmed schedule.

Blue: Charging

The charging process has been started and the car is charging.

Yellow: locked

The charger is locked. Only an authorized user can unlock it. User authentication must be made via the Wallbox app or myWallbox portal. 

Red: Error

The charger is in error mode. Do not attempt to charge in this state. Contact Wallbox Service so that they can advise you on this subject. 
Dynamic Load Balancing
The Power Boost function ensures that you use the maximum residual current within your current electricity connection to charge your car as quickly as possible. And all this without you having to worry about whether your stop or the main fuse will fly out. Is your washing machine switched on? Then the car loads less quickly. In practice, the charging station is in constant contact with a smart module in the meter cupboard. This module continuously monitors how much power is available at that time. All electrical appliances in the house have priority over the charging station. The remaining capacity is available for charging the car. In this way safe and optimum use is made of the power connection and overload is prevented.
Eco-Smart Solar EV Charging
Introducing Eco-Smart Solar EV Charging, intelligence that makes your Wallbox charger a key part of any sustainable home energy system. Use the green energy generated from your solar panels or wind turbines at home to charge your electric vehicle in the most efficient and sustainable way. With two modes to choose from, you decide when to go fully green or charge with a mix of green and grid energy. The Eco-Smart feature comes standard with Pulsar Plus and Copper SB models when equipped with the optional Power Boost function (load balancing).
Use exclusively green energy to charge your car. Full-Green mode will detect when there is enough surplus green energy available at your home to meet the minimum requirements needed to power your car. That's when your car will begin charging, meaning every charge is 100% green.
Minimize the use of grid power while charging your EV by combining it with any surplus green energy available. Eco mode detects the green energy that is not being used elsewhere in your home in real-time and mixes it with energy from the grid to ensure a fast, efficient charge.
Installation
We wallbox is very easy to install but we always recommend that a trained specialist do this.
Where does the wallbox come from
Wallbox is a Spanish tech start-up with the main objective of designing, producing and distributing innovative loading systems to support the arrival of sustainable transport. ... Wallbox is focused on helping the EV industry turn electric and plug-in hybrid cars into an attractive alternative to more traditional modes of transportation.
Documentation
Dimensions (lxbxh in mm):

166x163x82

Cable length (in meters):

5 or 7 meter for 3 Phase versions. 5 meter for 1 phase versions

Max Charging Speed in km/h:

122 km/hour

Max Charging Speed in kW:

Up to 22kW

Plug type Car side:

Type 2

Plug type Charge station side:

Type 2

Cable Attached or Socket:

Cable Attached

Display:

Phases:

Max 3 phase (also supports 1-2 phase installations)

Amperage:

Max 32A

Network Technologies Supported:

Wifi en Bluetooth

Mobile app Support:

No

Remote station management:

Mywallbox https://wallbox.com/en_catalog/mywallbox

Scheduled Charging:

Yes, via app and cloud services

Colour:

Black or White

RFID reader:

No

Load Balancing:

Yes, load balancing via optional Power Booster

Solar charging:

Plug & Charge Enabled:

No

Requires Professional Installation:

Yes

IP Rating:

IP54

Number of vehicles that can be charged:

1

RCD type build in:

30mA Type A

6mA DC Current Detection:

Yes

Home Automation Support:

No

MID certified meter:

Yes

kWh meter Build in:

Yes

Smart Tesla charge port opening :

No
The product is in your shopping basket!
Others also bought these products.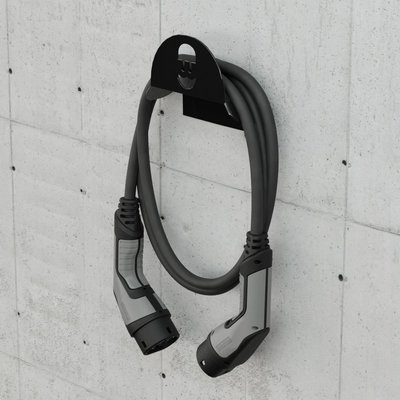 Wallbox Wall bracket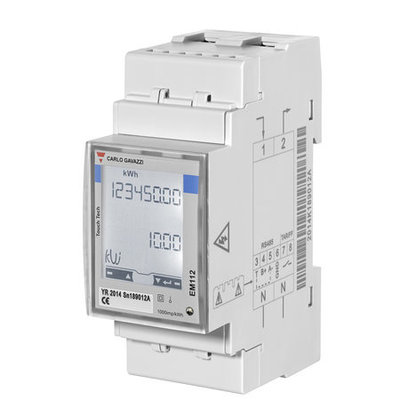 Wallbox Power Booster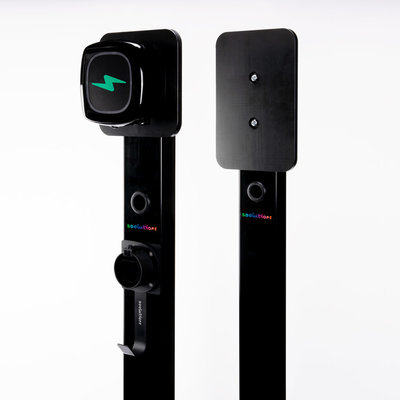 Soolutions Design your own mounting pole