Order even cheaper with combi solutions
For which vehicles are these charging cables suitable?
Charging cables type 2 to type 2 are suitable for electric vehicles with charging ports according to IEC 62196 mode 3 type 2. These are electric vehicles or plug-in hybrids such as the Polestar 2, BMW iX3, Mercedes-Benz EQC, Porsche Taycan, Renault Zoe, Smart Fortwo Electric Drive, Tesla Model S, Tesla model X, Tesla Model 3, Volkswagen E-Golf, or der Volvo V60 Plug-in Hybrid, Jaguar I-pace, Audi E-tron, Hyundai IONIQ, VW Id.3, Kia e -Niro, Peugot e-208, Hyundai Kona, Honda e, Nissan Leaf (from 2018) and many others
Screwed plugs (Basic Line)
The plugs and pins of these Ratio charging cables are screwed. All the other cables we offer have all pins crimped to the wires. Another difference between the Basic cables from Ratio and the other cables is that the Basic cables have screwed plugs and no molded plugs. Injected plugs are a lot more robust and are much more resistant to water than screwed plugs. However, it does make the price of screwed plugs and pins a lot more attractive.
Which charging stations are these charging cables for?
All charging cables offered are suitable for charging stations with type 2 ports. This means that the charging cables are suitable for almost all public charging stations in Europe. Please note that (DC / direct current) charging stations with CHAdeMO or Combo Type 2 (CCS2) are not included. At these stations, a charging cable is permanently connected to the station for electric vehicles.
What is the optimal length for a charging cable?
If you are using the charging cable in a place such as at home or at work, choose the optimal length for your situation. Usually it is 4 or 6 meters. If the cable is mainly used on the road or in different places (where another vehicle can be parked between the charging station and your vehicle), we recommend that you choose more length: 6 or 8 meters is a good choice in this case .
What is the weight of these charging cables?
The weight of the charging cable can be calculated by adding half a kilo per meter and one kilo for the two connectors. A charging cable of 6 meters weighs about 4 kilograms. The exact weight is shown in the properties of each product.
What charging speeds are possible with this cable?
An overview of possible characteristics of the charging cable and their charging capacity. Actual charging speed will depend on the type of inboard charger your car has:
16A with 1 phase = max. 3.7kW
20A with 1 phase = max. 4.6 kW
32A with 1 phase = max. 7.4kW
Safety and certification
All charging cables are CE marked and have also been subjected to all necessary tests by KEMA, so that we can guarantee that our charging cables are safe for you and your vehicle. In addition, our products are also individually tested before leaving the factory.
Bag included:

No

Plug type Car side:

Type 2

Plug type Charge station side:

Type 2

Cable Type:

Gerade

Number of phases:

1

Amperage:

32A

Cable diameter:

19,5mm

Length (in meters):

6 meter

Colour:

Black

Plug-Design:

clam shelled
The product is in your shopping basket!
Others also bought these products.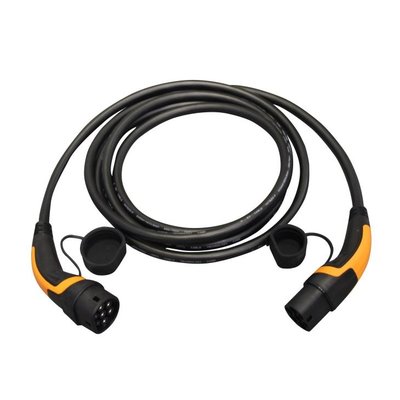 Onitl Type 2 - Type 2 Charge Cable 32A 1 Phase
Onitl Type 2 - Type 2 Charge Cable 32A 1 Phase - Spiral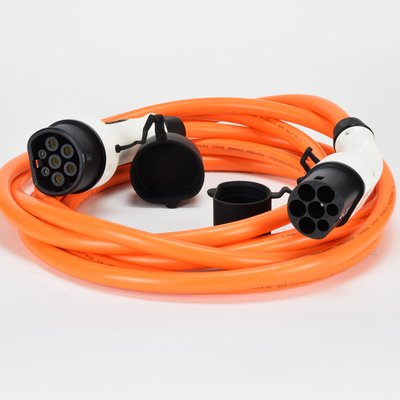 DUOSIDA Type 2 - Type 2 Charge Cable 32A 1 Phase