Order even cheaper with combi solutions
Which situation is this adapter suitable for?
This handy and easy to store EV charging cable adapter is for vehicles with a type 1 socket on the car side and charging points with a fixed type 2 plug. Cars with a type 2 socket can use this Type 2 to Type 1 adapter.
Please note: Some Tesla Destination charger are set to work only with Teslas and not other brands. If you cannot charge here, ask the charge point owner to set the charge point so that all cars can charge there.
Customers review:
What do I need this adapter for?
In case you want to charge at a charging point with a fixed cable with a type 2 plug, you cannot normally use this with a type 1 car. With this adapter you can convert the type 2 plug of fixed cable on the charging point side to a type 1 plug.
How fast can this adapter charge?
Because the type 1 plug side can charge a maximum of 1 phase 32 Ampere, the entire adapter speed is also a maximum of 1 phase 32A. This amounts to approximately 7.4 kW continuous power. An electric car can drive an average of 5.5 km on one kWh of energy stored in the battery. So if the car is charging with 7.4kW, this means that it can charge 7.4 kWh (kilo Watt hour) in one hour, which is approximately 40 km of energy for the car. We call this maximum loading speed of 40 km / hour. Please note that the actual charging speed also depends on the supporting charging speed of the car's built-in charger. Click here to see which charger your car has.
At which charging points can I use this cable?
You can use this adapter in combination with any suitable charging point with a fixed type 2 cable. As below:
Bag included:

Yes

Plug type Car side:

Type 1

Plug type Charge station side:

Type 2 cable attached

Cable Type:

Not Applicable

Number of phases:

1

Amperage:

32A

Cable diameter:

Not Applicable

Length (in meters):

Not Applicable

Colour:

Black

Plug-Design:

clam shelled or molded
The product is in your shopping basket!
Others also bought these products.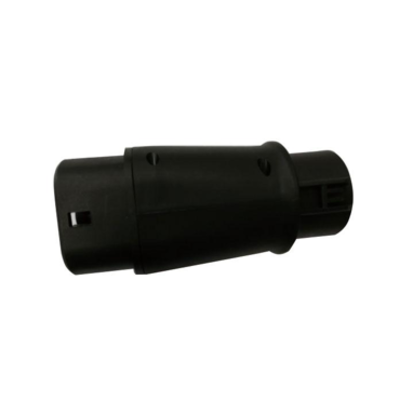 DUOSIDA Cable Adapter Type 2 car to Type 1 charging point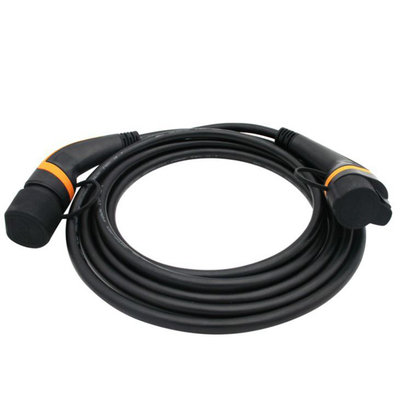 Onitl Type 1 - Type 2 Charge Cable 32A 1 Phase
DUOSIDA Adapter Type 2 charging point to normal socket (Schuko) 1 phase, 16A | 0.5 m