Safety and certification
All connectors bear the CE mark and have been subjected by TÜV to all necessary tests to ensure that our charging cables are safe for you and your vehicle. Furthermore, our products are also tested individually before they leave the factory.
What can I build with the plug?
This plug comes as part. This is NOT a complete charging cable. Other required parts must be purchased separately. This plug comes as a component including the correct resistance required for assembly. This is not a complete charging cable. You use the components offered here to mount a complete charging cable type 1 or type 2 for self-assembly. You can also search for other components such as plugs, charging cables and accessories such as wall mounts in our webshop. Please note that the other selected components also correspond to the maximum amplifier and phase of this component.
Use
This type 2 (female) plug with 32A is suitable for self-built charging cables Mode 2 and Mode 3. With the components offered here, you can mount a complete charging cable with self-assembly accessories. Also search for other components such as cables and wall mounts in cablesoolutions.shop.
PE-PP resistance
All Type 2 connectors and charging cables have a resistance between the Earth (PE) and the Pilot Pin (PP). This way the charging station and the car can indicate:
that the plug has been placed
that the plug can therefore be locked (only type 2)
the measuring device of the cable and thus the maximum current
Each plug comes with the right resistance that fits the plug.
16 ampere plugs have a resistance of 220 ohms
32 ampere plugs have a resistance of 680 ohms
Please note that the pp-PE resistor must be installed at both ends of the cable.
What
tools
do
I
need?
This plug should be reduced to an EV charging cable, should be a 2.5mm2 (16A) or 6mm2(32A). Use the shrink bar. Like the ones below. In addition, you need a screwdriver, a strip iron and a clipper.

Where can I use this plug?
This plug is for the car side i.e. the car charging port. It does not fit into a charging point.
What is the optimal charging cable length?
If you use the charging cable in a fixed place, such as at home or at work, choose the optimal length for your situation. Usually that's 4 or 6 meters. If the cable is mainly used on the road or in different places (where another vehicle may be between the charging point and your vehicle), we recommend choosing a longer length: 6 or 8 meters is a good choice in this case.
How heavy is a charging cable?
The weight of the cable can be calculated by adding half a kilo per meter and one kilo for the two plugs. An 8 meter charging cable weighs about 5 kilograms. The exact weight can be seen in the characteristics of the respective product.
What are the charging speeds?
An overview of possible charging cable characteristics and their charging performance:
16A with 1 phase = max. 3.7kW
20A with 1 phase = max. 4.6 kW
32A with 1 phase = max. 7.4kW
16A with 3 phases = max. 11kW
32A with 3 phases = max. 22kW
Safety
Please take extreme care when building the charging cable in-house. It is recommended to carry out the construction only with sound prior knowledge or by a trained professional.
Bag included:

No

Plug type Car side:

Type 2

Plug type Charge station side:

Only fits in car side

Cable Type:

N/A

Number of phases:

3

Amperage:

16A or 32A

Cable diameter:

Length (in meters):

N/A

Colour:

Black/White

Plug-Design:

clam shelled or molded
The product is in your shopping basket!
Others also bought these products.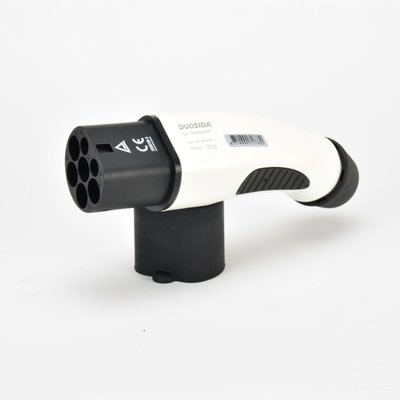 DUOSIDA Type 2 Male plug - Station side 32A- Crimping type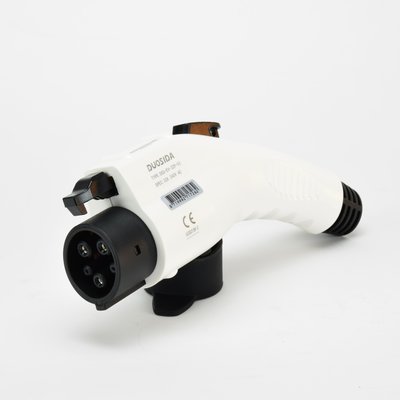 DUOSIDA Type 1 Female plug - Car side - Crimping type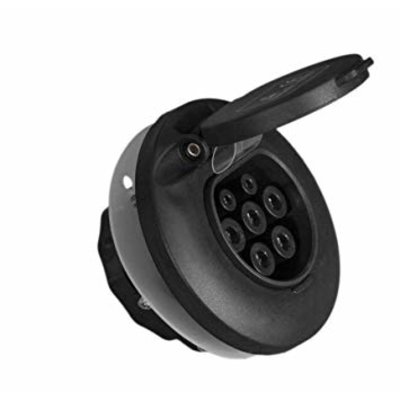 DUOSIDA Type 2 Inlet 32A station side