Khons
Type 2 to CEE red Portable Charger | 16A, 3 Phases | 6m
This Type 2 - CEE, 11kW - 3 Phase 16 Ampère charging cable is suitable for all cars with a type 2 connection on the car side and a charging capacity of 1 to 3 phase 16A. Cable Soolutions grants a 2 year warranty on this charging cable.
Order even cheaper with combi solutions
This 3-phase charging cable from Khons has a type 2 plug on the car side and a red 16A 3-phase CEE plug on the charging side. The control panel makes it possible to set the charging current. Thanks to the CEE plug, it is possible to charge the car's battery with 400V.
The mobile charging cable has built-in protections to prevent overcurrent. Furthermore, the charging cable has a built-in restart function. This means that the charging cable automatically starts charging again if the charging process is interrupted for whatever reason.
Safety and certification
All charging cables are CE marked and are also subject to all necessary tests by TÜV so that we can guarantee that our charging cables are safe for you and your vehicle. Moreover, our products are also tested individually before they leave the factory.
For which sockets are the portable chargers suitable?
The chargers have a CEE red plug with 400V and 16A with 3 phases. You can only use this product for compatible CEE red sockets. With portable chargers you can be independent of charging stations and are ideal for traveling if you do not have direct access to charging infrastructure for electric vehicles.
What additional functions does the portable charger offer?
It has an overcurrent protection function
Adjustable charging current (10A, 12A, 16A)
It has an automatic restart function if the charging process is interrupted
For which vehicles are these charging cables?
CEE red to type 2 portable chargers are suitable for electric vehicles with charging ports according to IEC 62196 mode 3 type 2. These are electric vehicles or plug-in hybrids such as the BMW i3, Mercedes-Benz A-Class E-Cell, Porsche Panamera S E Hybrid, Smart Fortwo Electric Drive, Tesla Model S, Volkswagen E-Golf, or the Volvo V60 Plug-in Hybrid.
Which charging speeds are possible?
An overview of possible charging cable properties and their charging capacity:
16A with 1 phase = max. 3.7kW
16A with 3 phases = max. 11kW
Download the user manual here
Waterproofing
Our portable chargers are waterproof for use in rainy conditions but are not recommended for long-term use in the rain. An indication of the protection level is given with an IPXX value, but this is not a guarantee. Damage caused by water exposure is not covered under the warranty. Use the chargers according to the guidelines: never place the control box on the ground in rainy conditions, take the charger back inside after each charging session and be careful when transferring the charger between cold and warm conditions to prevent condensation.
Bag included:

No

IP rating:

IP65

Plug type Car side:

Type 2

Type of wall side socket:

CEE RED 16A

Number of phases:

3

Amperage:

16A

Cable Diameter:

19,5mm

Length (in meters):

6 meter

Colour:

Black

Plug Pin temperature sensors:

no
The product is in your shopping basket!
Others also bought these products.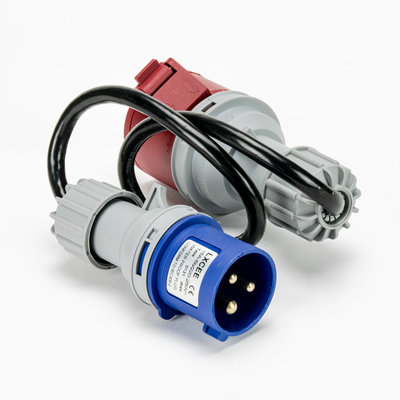 Soolutions CEE blue 16A (m) to CEE red 16A (f)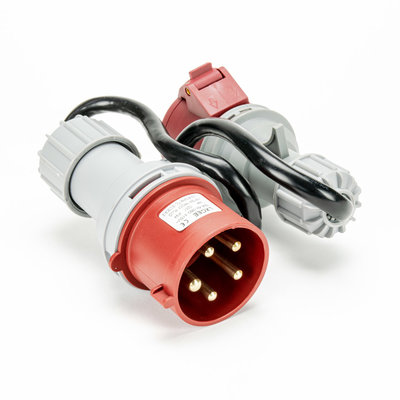 Soolutions CEE red 32A (m) to CEE red 16A (f)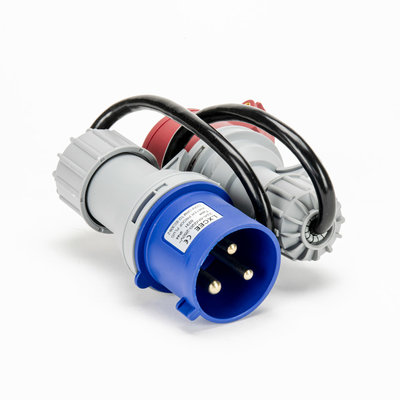 Soolutions CEE blue 32A (m) to CEE red 16A (f)