Onitl
Type 2 - Type 2 Charge Cable 32A 1 Phase, 6 meter - Spiral
This charging cable is for electric vehicles with a type 2 socket on the vehicle side and also a type 2 socket on the charging socket. For vehicles with a type 1 connection you can search for a type 1 charging cable
Order even cheaper with combi solutions
For which vehicles are these cables suitable?
Type 2 charging cables are suitable for electric cars that have an IEC 62196 Mode 3 type 2 female connection on the vehicle side. Do you have doubts about which connection your car has? Then look here
For which charging points are these cables suitable?
All Type 2 cables that are sold via Soolutions are suitable for charging points with a type 2 connection. This means that these cables are suitable for almost all public charging points in Europe. Here you can immediately see on which charging points you can charge with this cable
Why a spiral cable?
Spiral cables are very convenient and space-saving because the cable is pulled out to the correct length during loading and after loading the spiral springs back. Because in most cases a spiral cable does not touch the ground during loading, it stays clean more easily and is more visible so that there is less risk of tripping over it.
What is the weight of charging cables?
The weight of the charging cable can be calculated by adding half a kilo per meter and one kilo for the two connectors. A 6 meter charging cable weighs about 4 kilograms. The exact weight is displayed in the properties of each product.
How fast can this cable charge?
An electric car can average 5.5 km drive on 1 kWh of stored energy in the battery.
The maximum current for this charging cable is 32A with a maximum of 1 phases (230V). If this cable is connected to a charging point which can supply at least 1 phase 32A, this cable can deliver approximately 7.4 kW continuous power.
So, if the car is charging with the maximum 7, 4kW, it means that it can charge 7.4 kWh (kilowatt hour) in one hours, which roughly corresponds to a range of 41 km (5.5 km x 7, 4kWh).
With this, the maximum charging speed of the cable is 41 km/hour (least connected to a charging point of at least 1 phase 32A).
Please note that the actual loading speed also depends on the charging speed of the car's AC built-in charger. Click here  to see what AC charger your car has.
Where does this cable come from?
Onitl Cable Technology Co., Ltd. is based in China and was established in 2002 and now has a production facility of 86,000 m2. It is a high-tech enterprise in Jiangsu province. 50% of all electric vehicles in the world are sold in China. And Onitl plays an important part in the supply of cables here. With higher quality products, this manufacturer is now also entering the European market.
Safety and certification
All charging cables bear the CE mark and have undergone all necessary tests by the TUV so that we can guarantee that our charging cables are safe for you and your vehicle. Furthermore, our products are also tested individually before they leave the factory.
Bag included:

No

Plug type Car side:

Type 2

Plug type Charge station side:

Type 2

Cable Type:

Spiral

Number of phases:

1

Amperage:

32A

Cable diameter:

13 mm

Length (in meters):

6 (spiral 6m cables have a max. reach of 4,5m)

Colour:

Black with Orange

Plug-Design:

Molded
The product is in your shopping basket!
Others also bought these products.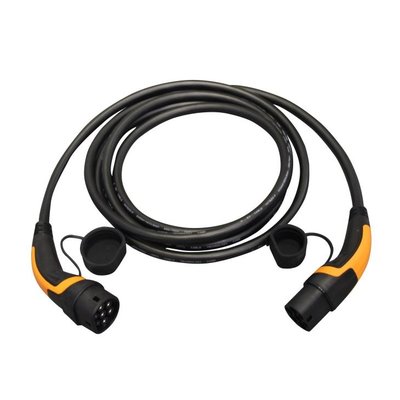 Onitl Type 2 - Type 2 Charge Cable 32A 1 Phase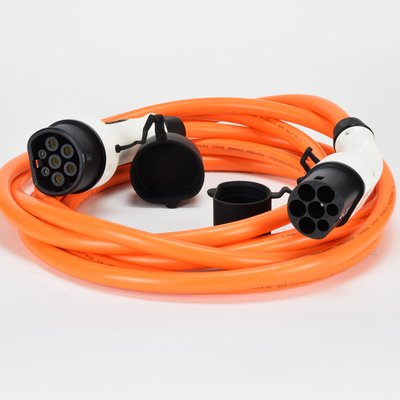 DUOSIDA Type 2 - Type 2 Charge Cable 32A 1 Phase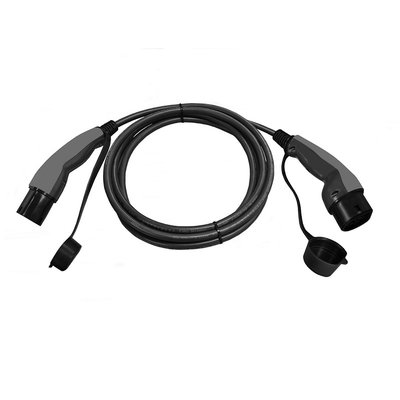 Ratio Basic Type 2 to Type 2 Charging Cable | 32A, 1 Phases