Soolutions
Universal mounting pole set
What is this pole suitable for?
This unique mounting pole is suitable for all charging points (and more) that are offered through the CableSoolutions webshop. Our universal mounting pole is designed for both private and business use private and public land. Very useful for when there is no wall available. Below is a small selection of the chargers we support:
Alfen -> S-line, Pro-line
ChargePoint -> Home
Ratio -> Smart home
Schneider -> Evlink
Tesla -> Wall connector
Wallbox -> Pulsar, Commander, Copper
Everything in 1 design
Each mounting set comes with all mounting materials, mounting bolts, screws and drilling templates that belong to the selected charger. If you want to mount the post on a concrete surface, you can buy our anchor set separately. The anchor set is also included when you purchase our concrete installation block.The mounting plate has been developed in such a way that the pole does not have to be grounded extra and that this pole is suitable for every charger. The power cable can be fed through the inside of the post to enhance the matte black finish of the post.
Double and single
We offer the double mounting pole for locations where you want to charge two cars at the same time. This comes with two mounting plates and can also be fed through two cables. This kills two birds with 1 stone and you can save costs on the installation. Also available in a liner with two cable suspension systems.
Cable suspension system
With the cable suspension system you can neatly store the type 2 plug (which normally plugs into the car) after charging. The plug holder ensures that the plug is locked and cannot fall out. The plug can be unlocked with one hand by simply pressing a button. With the additional cable hanger you can ensure that the cable stays clean and neatly off the ground. this prevents unnecessarily dirty hands.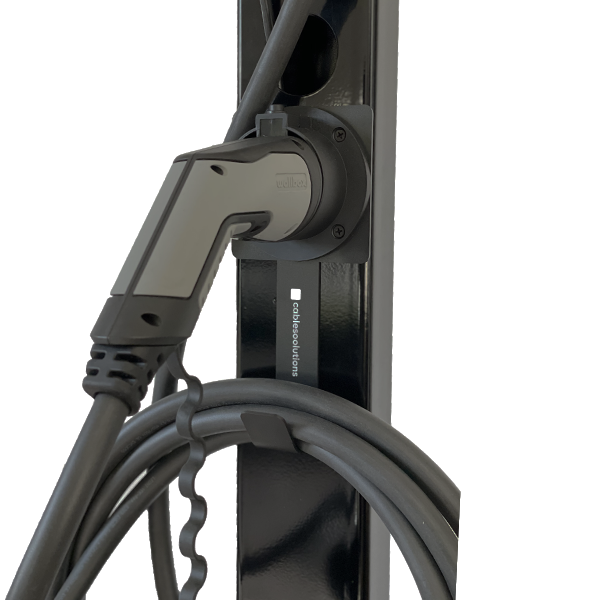 Different versions:
Mounting pole for one charging point + one mounting plate
Mounting pole for one charging point + one mounting plate + 1x type 2 cable suspension system
Mounting pole for two charging points + two mounting plates
Mounting pole for two charging points + two mounting plates + 2x type 2 cable suspension system
With all versions, the mounting bolts for floor mounting and the necessary screws to fix the charging point are included.
Specifications:
Height: 130cm
Material type: Steel
Material thickness: Base 5mm, Profile 3mm
Finish: Two-layer powder coat black (Ral 9005)
Power cable: passage through the inside of the pole
Need help?
Are you still unable to figure out which product you need? Do not hesitate and contact us. We will help you as well as possible to find a suitable product to load your car.